IMPORTANT NOTICE:




YOUR CARD STATEMENT WILL SHOW AS

BLUE GURUZ INC.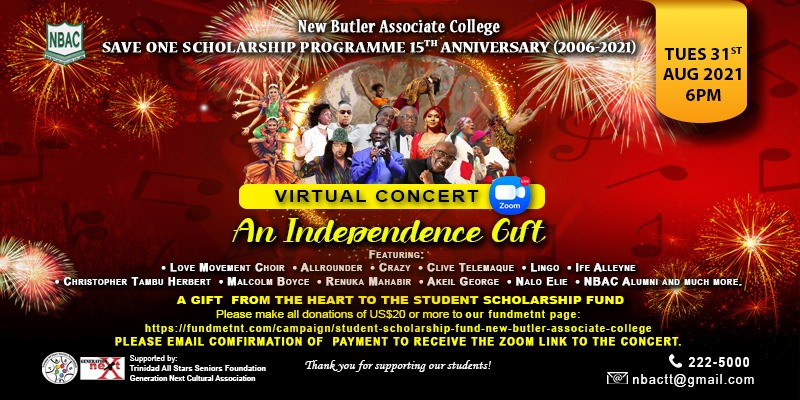 The New Butler Associate College Alumni/Parent Teacher Association in partnership with the Trinidad All Stars Seniors Foundation and Generation Next Cultural Association presents:

"A Virtual Benefit Concert: An Independence Gift."

WELCOME TO NBAC STUDENT SCHOLARSHIP FUND CAMPAIGN

DEAR PATRON,

The New Butler Associate College (NBAC) invites you to support its SAVE ONE SCHOLARSHIP PROGRAMME through a donation towards our Virtual Benefit Concert entitled "An Independence Gift" on Tuesday, August 31st, 2021 at 6pm via Zoom. It will commence at 6pm. All of the proceeds of this show will go directly towards our Student Scholarship Fund to provide deserving students, who will be recommended by a wide range of community organisations and national organisations Steelbands, Best Village Groups, Sport Clubs, Police Youth Clubs, Churches, Village Councils, Secondary Schools etc, with scholarships and financial assistance for two (2) years of academic study to complete thier CSEC 'O' Level examinations.

This event will highlight the talent of both our present and past student population as well as several professional calypsonians and vocalists, instrumentalists, drummers, pannists and dancers to name a few. Some of the artistes being featured at this event include the Love Movement Choir, Allrounder, Crazy, Clive Telemaque, Lingo, Christopher Tambu Herbert, Malcolm Boyce, Vikash School of Dance, Renuka Mahabir, Akeil George, NBAC Alumni Association and much more. All of these acts were videotaped at the SWWTU Hall, Wrightson Road, Port of Spain on the 14th and 15th of August 2021.

We hereby invite you to support our Save One Scholarship Programme through a donation of 20US Dollars or More. After your donation has been made you can email us a picture of your donation at nbactt@gmail.com to receive access to our Independence/Benefit Concert via zoom on August 31st 2021 at 6pm.

We thank you in advance for your generosity and kind support. We have also attached more detailed information below about our Save One Scholarship Programme.


Save One Scholarship Programme (2006-2021)

BRIEF HISTORY

The Save One Scholarship Programme was launched in 2006 to provide educational opportunities to young persons from the growing number of at risk communities throughout Laventille and Environs and by extension the East/West corridor and Chaguanas. Most of these communities are considered at risk communities due to high crime rates and high levels of unemployment. These communities also experience higher rates of school drop outs and poorer academic outcomes due to several factors within family/community settings such as poverty, single parenthood, low parental education levels, increased gang warfare and other factors which undermine children development.

TARGET

Our Save One Scholarship Programme has annually provided an average of eighty underprivileged and deserving young persons, between the ages of fifteen (15) and twenty (20) years, with scholarships and financial support for two years of academic studies at the New Butler Associate College (NBAC) to re-sit their CSEC O' Level examinations.

LEARNING/TEACHING ENVIRONMENT

Through this programme we have provided the platform for students' holistic development and prepared them for their various career paths.In this programme they are not only encouraged to resume their studies but are provided with the necessary remedial work, guidance and mentorship needed for the world of work and adult life. We also cater to the emotional, physical, intellectual, and socio-cultural needs of our students and maintain a highly motivational environment through weekly inspirational lectures and other teaching methods. Life skills training, multi-disciplinary approaches to learning/teaching, technological training, cultural programmes, sport programmes and weekly enrichment programmes are major components of our holistic learning environment that are continuously re-evaluated and designed to meet the specific needs of our students.

SCHOLARSHIP CRITERIA

Deserving and underprivileged students who are in need of financial support are selected for this programme. In addition, some are selected based on the tremendous potential they have displayed in various disciplines such as sport, culture, community service, leadership, business and other disciplines. They must be recommended by their previous secondary school and/or community organizations and satisfy appraisals from interviews which are conducted by the management committee of NBAC.


Consequently, over the past fifteen (15) years this scholarship programme has achieved great success which is evident through our high success rates as well as other areas such as our artistic/sport achievements and the strength of our community. It is important to note that annually, the NBAC community grows stronger through effective communication and networking with our past students, local businesses, partners, sponsors/donars and relationships with other schools. The unwavering support of this community is instrumental in strengthening our learning environment and achieving the objectives of this programme.

NEW FEATURE OF OUR SCHOLARSHIP PROGRAMME: STUDENT + INITIATIVE

In 2019, as part of our scholarship expansion drive, our STUDENT + INITIATIVE was launched. It is geared towards increasing the educational opportunities and incentives offered by our Save One Scholarship Programme. This initiative caters for youths who have displayed tremendous potential in specific disciplines but have not yet acquired their complete CSEC O' Level Certificates. Through this initiative we have provided scholarships to students + artistes, students + entrepreneurs, and students + athletes, to name a few.

We are of the firm belief that the God-given talents and abilities of our youth are frequently stymied because of a lack of support as well as opportunities within their various fields. Though they may possess tremendous strength in a particular field, they are short of the relevant knowledge, skills, mentorship and motivation to enhance their capabilities in these disciplines and/or maximize their fullest potential. This initiative has been designed to provide them with a holistic educational experience where they can attain their basic qualifications, life skills, mentorship and career guidance while simultaneously enhancing their gifts to the world. We are of the firm belief that the enhancement of their talents and abilities are as equally important to their academic development.

Consequently, NBAC opened a Student + Artiste Centre at Scherzando Pan Theatre, #1 Evans Street, Curepe to cater annually to the specific needs of twenty- five young pannists. This centre is being conducted as a pilot project in partnership with Pan Trinbago. Our young Steelpan Scholars were provided with an opportunity to acquire their academic qualifications and they were highly successful in doing so. This has placed them in a better position to become role models in their various communities. Pan men and women continue to make an indelible mark on the Caribbean and world music and we would like to assist more of our young pannists to become successful musicians. Another major feature of this centre is our special music business course, which will help them to become valuable assets to the local music industry.

Stay tuned for more fundraising events by NBAC and Family. Together we can continue to provide more educational opportunities to those in need.

For more information feel free to email us at nbactt@gmail.com or call/whatsapp us at 18687675070. After making your donation, please send your proof of payment via email or whatsapp so we can send the concert link.
Maurin Lovell

donated

$135

Good luck and God's blessing
No results have been found
Education
An Independence Gift: NBAC Virtual Benefit Concert
$135
raised of $20,000 goal
1

%
1

Donation
No deadline

1

Like
Related Campaigns
Take a look at other campaigns in the same category.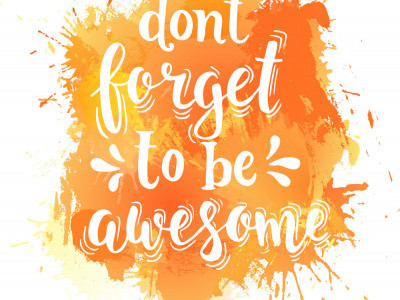 Education
I am a teacher situated in in the beautiful island of Tobago. I am trying to rai...
raised of $30,000
--- by Melissa Dwarika
No deadline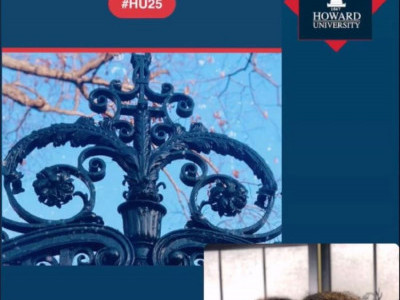 Education
Before going into the full description, I want to thank you for clicking on the...
raised of $120,000
--- by Chaya Stanislaus-Ramsey
No deadline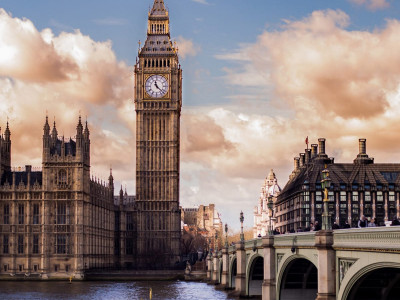 Education
I have been offered an opportunity to go London south bank university to study.
raised of $150,000
--- by Kajul mansoor
22 days left